Slumping prices in three out of the past five sessions have brought value-hunting buyers to natural gas. But reprising the key $3 level might be difficult for those bullish on the heating fuel, as the weather has remained unseasonably warm most of this fall.
Ahead of the U.S. Energy Information Administration's weekly storage report on natural gas due at 10:30 AM ET (15:30 GMT) Thursday, bets were growing that stockpiles of the heating fuel rose by 15 billion cubic feet during the week ended Nov. 13.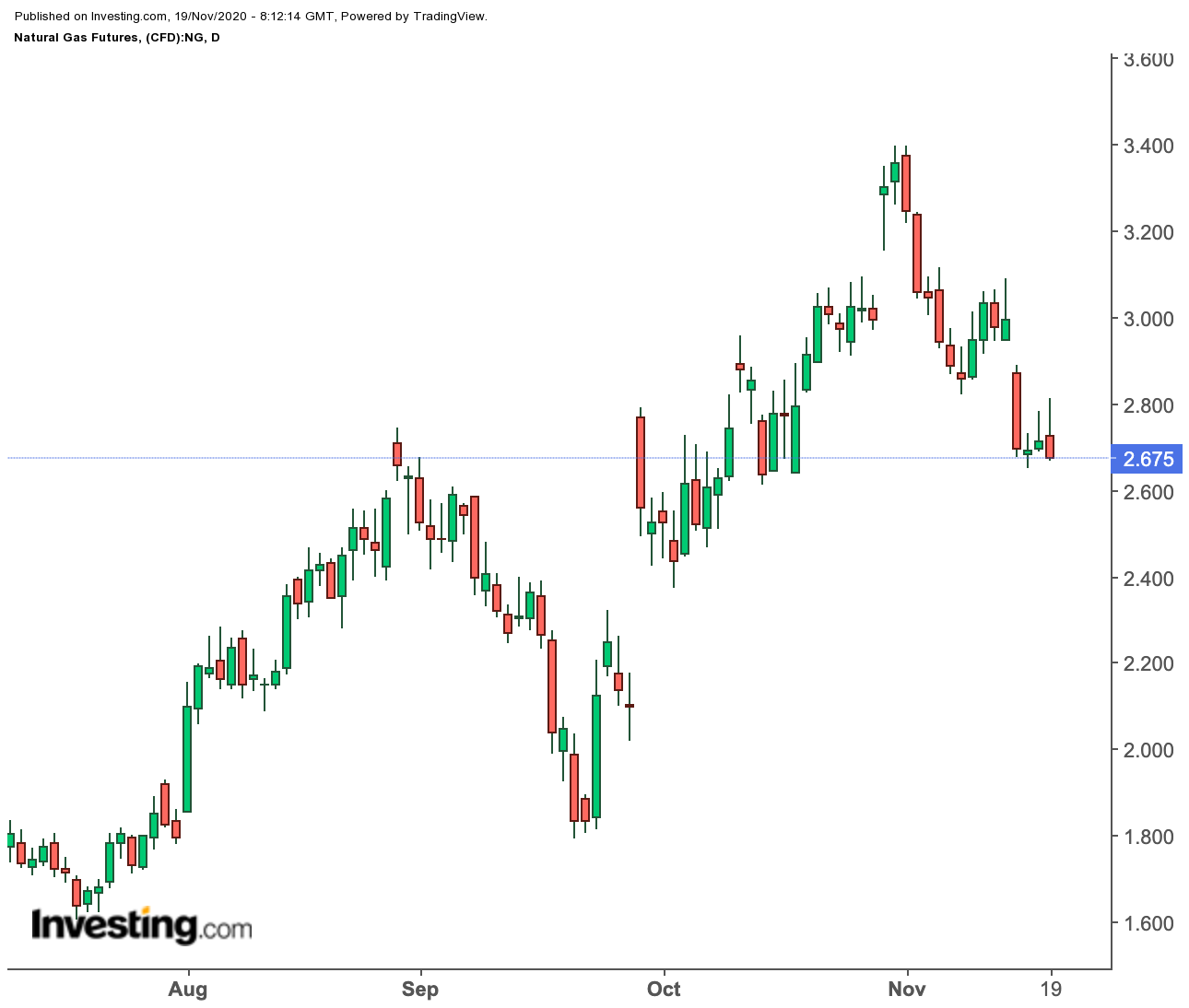 In the previous week to Nov. 6, there was an injection of 8 bcf into storage by utilities that had leftover gas on hand after burning what was required for heat and power generation. 
Unusual Storage Builds
Storage builds in natural gas are unusual this late into fall, when drawdowns are more common.


But of the five EIA storage reports since the week ended Oct. 16, there has only been one drawdown.
That explains this week's near 9% price drop on the front-month gas contract on New York's Henry Hub. In Wednesday's trade, the contract settled at $2.71 per mmBtu, or million metric British thermal units. It last traded above the key bullish level of $3 per mmBtu five sessions ago, when most hedge funds still had a positive outlook on the front-month gas contract.
Dan Myers, analyst at Houston-based gas risk consultancy Gelber & Associates, cautioned the firm's clients in an email on Wednesday that it could take some time for sentiment to strengthen:
"Following heavy losses early this week, buyers are finding value in upcoming winter contracts with some support from modestly cooler weather forecasts in the 6-15 day period." 

"Even so, soft pricing may persist until the market deals with the fallout from weak, weather-driven demand in the first half of this month. November's mild weather has flipped the script. Each of the next three storage reports should detail relatively bearish storage adjustments, starting with tomorrow's projected storage injection."
Cold That Took Longer To Arrive
Although Thursday's weather was frigid across the Eastern United States—which represents natural gas's most lucrative heating market—it had taken longer than usual for the cold to arrive this year.
Last week's weather, for instance, was warmer-than-normal with 73 heating degree days (HDDs), compared with a 30-year normal of 108 HDDs for the period. HDDs, used to estimate demand to heat homes and businesses, measure the number of degrees a day's average temperature is below 65 degrees Fahrenheit (18 degrees Celsius).
Naturalgasintel.com said in a blog on Wednesday that temperatures across much of the country were projected to rise during the second half of this week and remain elevated into next week. Citing data from forecaster NatGasWeather, the portal said:
"Bigger picture, the coming pattern still is to the bearish side due to national HDDs being below normal most of the next 15 days and with the Dec. 1-2 period still showing a mild overall U.S. set-up." 

"The southern United States will remain unusually mild and the overall weather pattern points to seasonally light demand."
Front-Month Gas Seen As Strong Sell
Back to Henry Hub's front-month price, Investing.com's Daily Technical Outlook has a Strong Sell call, with three Fibonacci support levels—the first at $2.69, the next at $2.67 and the last at $2.63.
Should the contract buck the trend and turn bullish, then it will likely find a three-tier Fibonacci resistance that begins at $2.76 and progresses to $2.79, before selling pressure likely emerges at $2.82.
As with all projections, we urge you to follow the calls but temper them with  fundamentals—and moderation—whenever possible.
Disclaimer: Barani Krishnan uses a range of views outside his own to bring diversity to his analysis of any market. He does not own or hold a position in the commodities or securities he writes about.

Written By: Investing.com