Investing in turnaround situations comes with a big challenge: when to make the call that a company has seen the worst and its stock is in a position to begin a sustained upward move?
Investors who have watched industrial giant General Electric Company (NYSE:GE) over the past two years may be facing a similar dilemma these days. After plunging more than 60% up to late last year, GE stock is now on a slow and gradual recovery path.
Trading at $11.29 at yesterday's close, it has gained more than 50% in 2019, creating some excitement among the bulls who want to see this embattled conglomerate get back on its feet so they can reap the rewards of their bet on the beaten-down stock.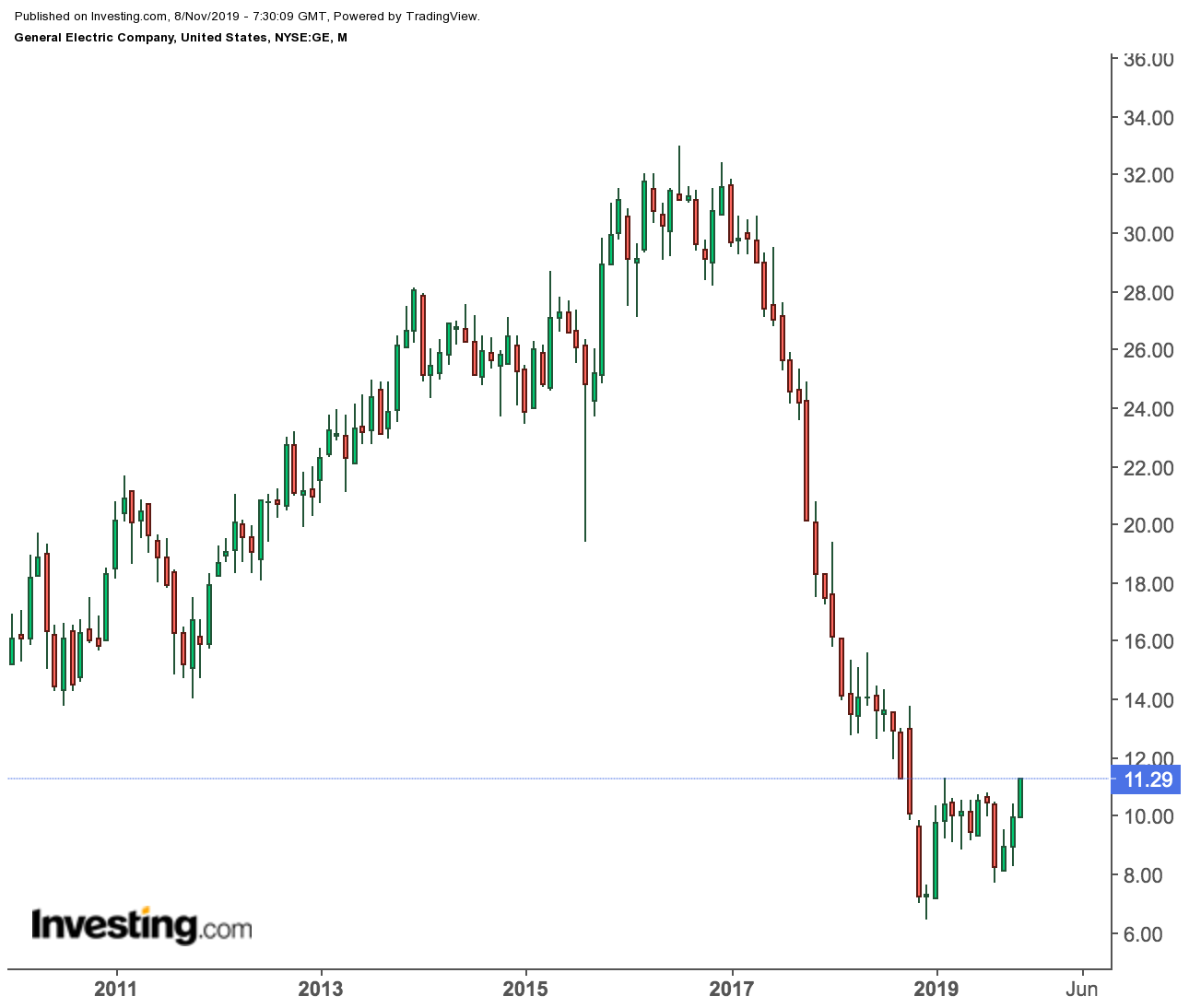 The major boost to its stock's move higher this year came when GE reported its third-quarter earnings last month, showing that its cash flow situation is improving and some of its industrial units have begun to show signs of life.
That performance is something the company's new CEO Larry Culp has been promising since he took over more than a year ago, tasked with the job of saving the GE ship from sinking, as demand for its major products dropped and the level of debt ballooned to an alarming level.
What made investors excited this time is the company's improved forecast for its 2019 cash-flow — the second straight quarter GE was able to do that, helped by some signs of revival in its industrial businesses, which will generate as much as $2 billion in free cash this year. That amount is double its previously projected number of no more than $1 billion.
For optimists, there are many reasons to cheer the latest earnings report.
First, all but GE's turbine unit showed growth in the third quarter, suggesting the turnaround is deepening. Its industrial businesses generated $650 million in adjusted free cash flow, one of the most closely watched metrics for GE investors.
Sales from the company's aviation unit rose 8.4% despite its huge exposure to Boeing Co (NYSE:BA). The division makes engines for the 737 Max, which has been grounded since March following two fatal crashes.
'Not Much Controversy' This Time
Over a slighter longer horizon, GE's aviation and healthcare units now seem to be on a much stronger footing. They combined generated profits of $7.5 billion in the first nine months of fiscal 2019, with a profit margin of 19.4%.
On the flip side, the company's power business is continuing to struggle. In Q3, it saw a 30% decline in orders, suggesting that this unit will continue to bleed cash and potentially could delay a recovery.
Another negative that investors shouldn't ignore is GE's struggling insurance business. The company said it would take a pre-tax premium deficiency charge of $1 billion related to its insurance business, primarily because of a decline in interest rates. Promising significant improvement at GE's manufacturing businesses over the next few years, Culp said in a statement on Oct. 30:
"Our results reflect another quarter of progress in the transformation of GE. We are encouraged by our strong backlog, organic growth, margin expansion, and positive cash trajectory amidst global macro uncertainty."
"I remain confident that we will unlock value for GE's stakeholders as our transformation accelerates."
Analysts on the Street are sounding a bit more positive about the company, including JPMorgan's analyst Stephen Tusa, who has been the most accurate forecaster when it comes to GE.
"There is not much controversy here," Tusa, who has a "sell" call on the stock with the price target of $5 a share, said in a note.
There were "some puts and takes but probably received as better than feared, and the stock should recoup some of its recent under-performance," he added.
Currently, eight analysts out of 20 have a "buy" rating on GE stock, two are recommending to sell, while 10 assign it a "hold" rating, with a average price target of $10.77 for the next 12 months.
Bottom Line
GE's restructuring remains very much a work-in-progress, with some signs that Culp's turnaround is taking hold. Despite this optimism, investors should take note that GE stock is just 3.5% higher from the time Culp took over as CEO on Sept. 30, 2018. With so much happening at GE, it's hard to conclude what kind of company will finally emerge when all the restructuring and asset sales are done. For those reasons, we don't recommend buying GE stock.

Written By: Investing.com